Bergen County has the highest population of any New Jersey county, and Hackensack serves as its largest city.

Considered part of the New York City metropolitan area, the George Washington Bridge over the Hudson River connects Bergen County to Manhattan.
Bergen County is also one of the wealthiest counties in the United States, according to the
Washington Post
.
It's calculated that
the median sale price for Bergen County real estate is over $500,000, with many high-end properties available throughout the county as well as in the city of Hackensack.

Residents in rich counties demand high-end home improvements, and here are some of the trends currently giving Bergen County homes an affluent, new look.

Whether you're looking to renovate your entire home or just want to refresh a few rooms, there are many contractors in Bergen County who understand high-end upgrades and what their wealthy clients seek when it comes to home improvement projects.
1. Bathroom remodel
Everyone likes a gorgeous bathroom, and as yours — no matter how nice it is — starts to show its age, it will tend to look worse for wear. That's not what you want in a Bergen County luxury home.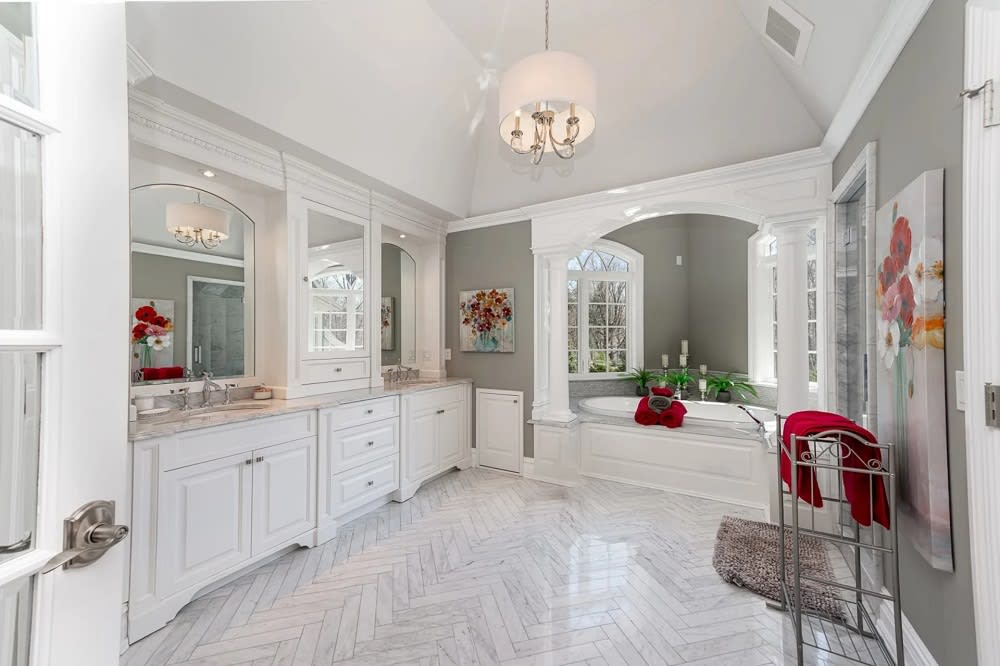 Remodeling with new fixtures — a walk-in shower with a rain showerhead, a contemporary stand-alone tub that offers a window view, marble flooring, chandelier lighting, and lots of storage — can turn an outdated bathroom into something simply fantastic.
2. Kitchen islands with a sink
Kitchens are considered the heart of any home, and when a kitchen is both beautiful and functional, it's even more beloved. The kitchen in your Bergen County mansion may have been designed with style — but not efficiency — in mind. A good remodel with plenty of special features can fix this. A great luxury improvement that can make a kitchen remodel special is an extra sink incorporated into your kitchen island. Not only does a sink make food prep so much more convenient, but it also allows you to turn your kitchen island into an informal bar area when entertaining.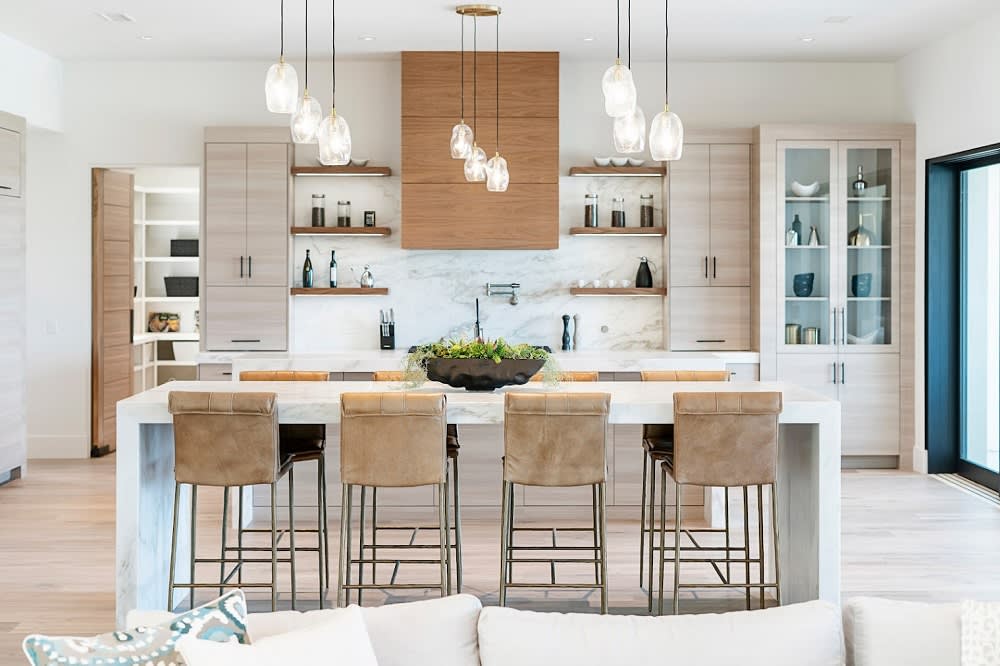 Floor-to-ceiling cabinets — with space on top for decorative items such as Spode dinner plates or rare carnival glass pieces — add style and function and will allow you to collect as many small kitchen appliances as your heart desires.

Trade those subway tile backsplashes for bold glass mosaics, or art-inspired tiling. Not only will they be unique to your kitchen, but they'll also add a bold pop of color and create a focal point in one of the most-visited rooms in the house.
3. Make a basement so much better
Even if your laundry area is in the basement, the space is likely a bland combination of your washer-dryer, some storage shelves, and large appliances. Bring in contractors to elevate the space by waterproofing, adding drywall, adding plumbing for another bathroom, and installing flooring to finish your basement. Consider separating it into several rooms, so you can create multiple spaces. Start by creating a cheery laundry space - bright wallpaper on a laundry supply shelving unit, a matching rug, and a rolling clothes rack for clothes fresh out of the dryer are a great start. Other areas can be turned into a game room — think pool, darts, foosball, or your favorite classic video games — or perhaps a gym to keep workout equipment out of the main living space. Drinks enthusiasts might like a bar area or wine cellar, bringing extra luxury to your already high-end home.
4. Neutrals are nice, but bold brights pop
Bergen County property designers told
Health and Life Magazine
that, while neutrals make a great backdrop, jewel tones are the perfect accents to showcase a homeowner's sense of style. While you might initially want to dip your toes in with a statement side chair, completing the look with multiple pillows in myriad jewel tones and a bold wallpaper will let you take advantage of the latest trend and leave you with a room that reflects your personal style.
5. Ghost chairs are back in style
Acrylic ghost chairs, which are clear chairs perfect for a dining room or breakfast nook, help lighten up your space while adding an element of surprise.
The chair gained prominence in 2002 when designer Philippe Louis Starck created the
Louis Ghost chair
– inspired by the Louis XVI chair, or goût grec, crafted for the ill-fated king and his bride, Marie Antoinette. The ghost chair, a mix of regal references and thoroughly modern design elements, was made from one single molded piece of Lucite. It proved so popular that it inspired the Victoria Ghost chair, an armless, baroque-style chair that also has a contemporary edge.

Today's acrylic chairs are ideal for modern home decor, especially in rooms that are light and airy and call for furniture to match.
6. Year-round outdoor living spaces
While outdoor heaters were once in short supply during the early COVID-19 pandemic, many homeowners learned to love spending time outdoors during lockdown - no matter what time of year. For colder months, outdoor heaters on the perimeter of your space and a fire pit in the center are ideal ways to make winter nights warm and toasty.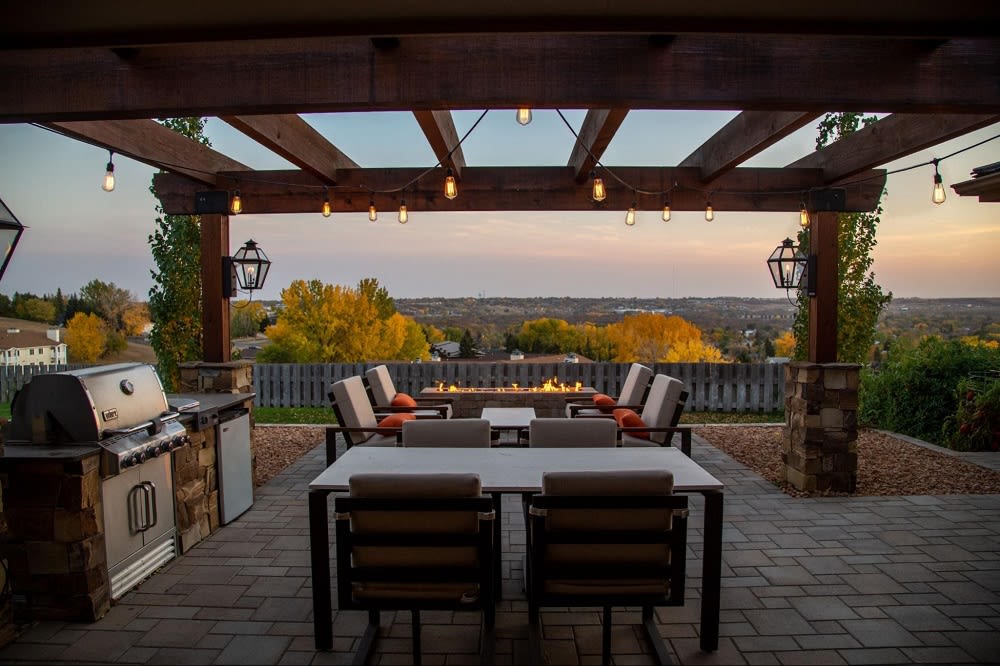 A patio cover with both accent and functional lights can protect your high-end outdoor furniture, grills, and smokers from inclement weather. You can also consider screening your patio to keep out insects and add an extra level of protection for comfortable summer evenings.
7. Greenery, wicker, and wood
Because so many Bergen County homes have plenty of outdoor space, bringing elements of the outdoors inside — meaning more than just houseplants, but those are great too — can bring a relaxed spirit into your space. Consider tables made from varnished slices of a tree trunk, bamboo accents, wicker storage baskets, and reclaimed wood for French doors.
Looking for Bergen County luxury homes?
If you're in the market for a luxury home for sale in Bergen County,
The Taylor Lucyk Group
has many high-end properties that are sure to suit your needs.