There is more to be excited about in Paramus, NJ, than the stunning real estate. New Jersey is known for having a large number of shopping malls and is also dotted with high-end stores in every county. Many people find that they would like to fill their recently-purchased Paramus home with fresh decor and furniture and maybe even fill the closets with new clothes. Whatever your shopping needs in Paramus may be, here are some of the top stores that are worth checking out — they may soon become your favorites.
Westfield Garden State Plaza
Malls can be the best places to go when you are looking to shop for a variety of items. Depending on what your day holds, the mall might be the only place you need to visit. Westfield Garden State Plaza is more than just a mall; it is a true shopping experience. With over
220 stores
, nearly every item on your list can be found within these elegant white walls. Over a dozen luxury retailers have spaces in the mall, including Burberry, Gucci, Louis Vuitton, Neiman Marcus, and Versace. If you are looking for a family day of Paramus shopping, be sure to stop in at Lego, Janie and Jack, and AMC Theaters.
Bergen Town Center

Shopping at Bergen Town Center is a more casual, relaxed mall experience. The shops within have something for everyone, with departments like apparel, technology, health and beauty, home improvement, and more. With over 130 stores, Bergen Town Center can provide hours of entertainment without feeling overwhelming. You can find stores such as Banana Republic, Bloomingdales, Nike, and Tommy Hilfiger. The homes for sale in Paramus are not just highly sought after for their luxurious features but also because of the local attractions.
Paramus Park Mall

Paramus Park Mall may be the smallest on the list, but it should be noticed. With 94 stores to choose from, you can be assured that you will find what you are looking for in less time than at a larger location. If you are looking to shop at a mall but do not want it to take up your whole day, a smaller mall is perfect. Paramus Park Mall offers a true American shopping mall experience, with stores such as L.L.Bean, Pandora, Sephora, Swarovski, and Yankee Candle. This mall also contains the only Build-A-Bear Workshop in the area, which the little ones go wild for.
Saloni Furniture
During your search for houses for sale in Paramus, you may have been more relaxed about furniture. After all, you had more pressing things to deal with. Once the home has been purchased, you may be looking for new decor. Saloni Furniture will not just sell you furniture; they will sell you a piece of art. Any design aesthetic can be complemented by Saloni Furniture, as they combine structural integrity with unique looks to create one-of-a-kind pieces. Solids or patterns, neutral or vibrant, Saloni Furniture has hundreds of looks to choose from.
Roche Bobois
Working with a variety of world-renowned
designers
, Roche Bobois specializes in customizable luxury furniture. These pieces are unique and contemporary, adding a flare to your space that will have all your guests in awe. Take a trip through the sleek showroom and see all the beautiful pieces that Roche Bobois offers. Many of the designs and fabrics found within the store are bright and exciting, but if you are looking for a more reserved style, there are still a host of options to choose from. The option to customize your favorite pieces ensures that whatever furniture you pick can be blended with the furniture you already have at home. All areas of your home can be furnished at Roche Bobois, including your outdoor spaces.
MOM's Organic Market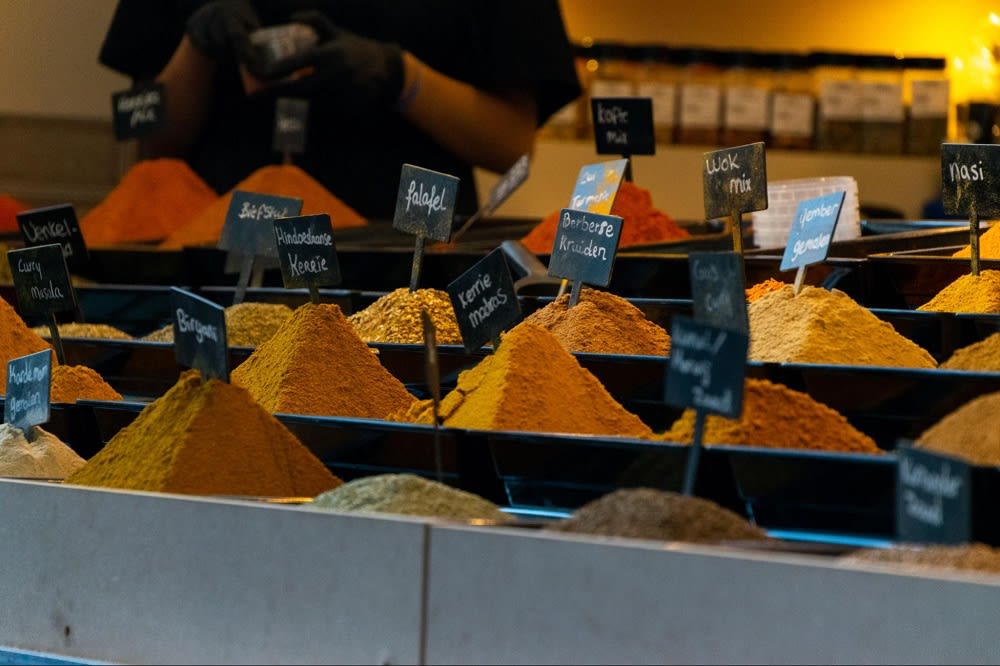 In 2022, the sale of organic foods passed
$57 billion
. Eating organic is a goal for many households for a variety of reasons. An organic market in the neighborhood ensures that all those households can buy the food they trust without worrying about harmful ingredients. At MOM's Organic Market, there is a ban on over 250 ingredients that are known to be harmful to our health. The food sold there is of the highest quality and is certified organic. A section of the market is dedicated to bulk products that you can fill up using your own containers. From pasta, spices, dry goods, and even sustainable detergents and soaps, these bulk products can be bought in whatever volume you want. Bringing your own container reduces plastic waste, cuts costs, and prevents food waste.
There are many shops in and around Paramus that are perfect for any shopping adventure. Whether you are searching for clothing, household items, furniture, food, or electronics, you can get it all in your neighborhood. Paramus is a delightful suburban oasis in Bergen County that is perfect for singles and families alike. There are countless other shops in this borough waiting to be explored, where you can find craft supplies, sports equipment, home organization, and much more. All of the comforts you could ever need will just be down the road once you make Paramus your new home. If you have not already found it, have confidence that your
dream home
is out there and waiting for you.
How to make moving a breeze
Taylor Lucyk
is a real estate professional who has made a name for himself in New Jersey's real estate market. His expert knowledge and dedication to his clients have put him in a league of his own, which is why he is currently in the top 1% of real estate agents in Northern New Jersey. With Taylor as your agent, you can rest easy knowing that he will help you achieve your dream as quickly and efficiently as possible.