Brick-lined streets and majestic trees set a romantic, whimsical tone in the town of
Ridgewood
. With an elegant ambiance and over 100 restaurants, bistros, and bars, Ridgewood has become a fashionable scene for fine dining and eclectic cuisine in New Jersey.
Located in
Bergen County
, this northern New Jersey village boasts a close-knit community, picturesque scenery, and an abundance of local farms that supply fresh, seasonal ingredients to Ridgewood's restaurants. Beyond the food, Bergen County houses for sale comprise some of the most luxurious in the state and are competitive among buyers.
With a refined palate for global cuisine, the locals of this affluent neighborhood are tastemakers keen on elevated meals and chef-driven fare. Nearby Manhattan may have a hot culinary scene, but Ridgewood's incredible collection of bistros and bars precludes the need for a trip to the Big Apple. Below are some of Ridgewood's can't-miss restaurants.
The best restaurants to try out in Ridgewood
Latour: French classics
Nestled in the heart of Ridgewood is
Latour
, a refined French American bistro known for Michelin-worthy cuisine and a romantic setting. Chef-owner Michael Latour dazzles the palate with an exquisite menu of French classics approached with a modern twist and American flair.
With artfully plated masterpieces and an elegant dining room evoking a sense of French country charm, Latour is the stuff romantic meals are made of. Must-try dishes include the diver scallops Rockefeller, the classic Escargots a' la Bourguignonne with garlic white wine sauce, and the pan-seared grouper in Champagne sauce.

Park West Tavern: Sunday brunch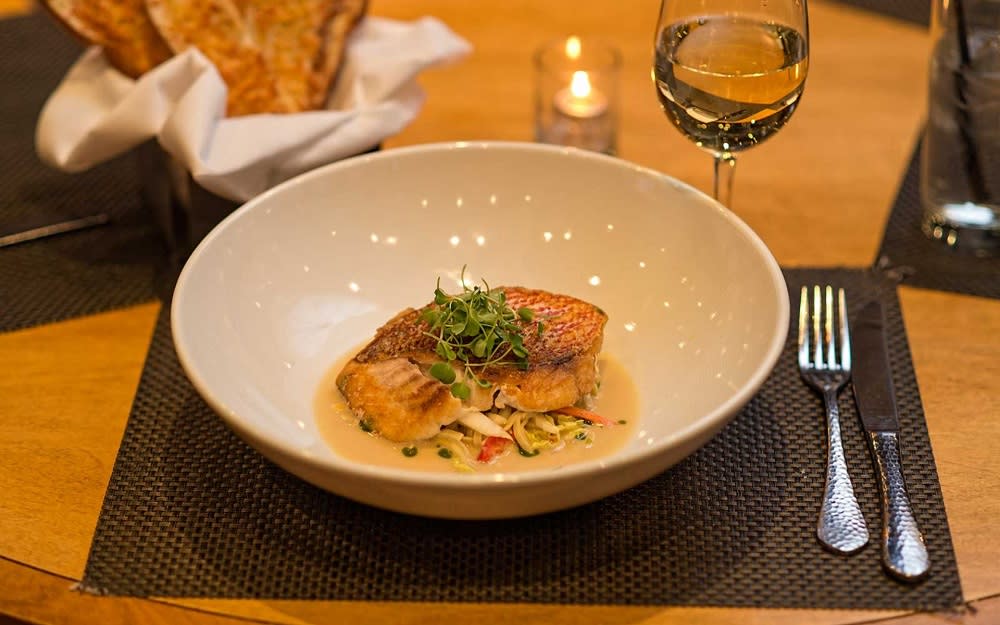 Made for ravenous appetites and serious cravings,
Park West Tavern
is Ridgewood's sophisticated spot for elevated New American cuisine. With a warm, rustic chic dining room and a colorful menu of creative dishes, Park West Tavern embodies Ridgewood's laid-back elegance. Menu highlights include the sumptuous steakhouse Wagyu burger with truffle aioli, portabello, caramelized onion, and Irish cheddar; full-to-the-brim classic bloody marys; and the mouth-watering smoked salmon benedict.

Raymond's: Americana
The extensive New American comfort food menu at
Raymond's
is reason enough to start looking for Bergen County homes for sale. This retro-inspired brasserie delights with stylish vintage vibes and the most satisfying diner food in the state. What began in 1989 as a modest postage stamp of a café, serving a limited menu of regular coffee and a few lunch items, transformed along with the village of Ridgewood. Today, this beloved eatery offers trendy drinks like turmeric almond lattes and cold brew iced coffee, breakfast burritos, omelets, burgers, sandwiches, classic diner entrées like buttermilk fried chicken, and a decadent dessert menu.
Standout dishes include the yellowfin tuna poke bowl with jasmine rice, avocado, crispy wontons, and togarashi, as well as classic brunch star, the decadent chicken and waffles, and warm ricotta donuts.

Roots Steakhouse: classic supper club fare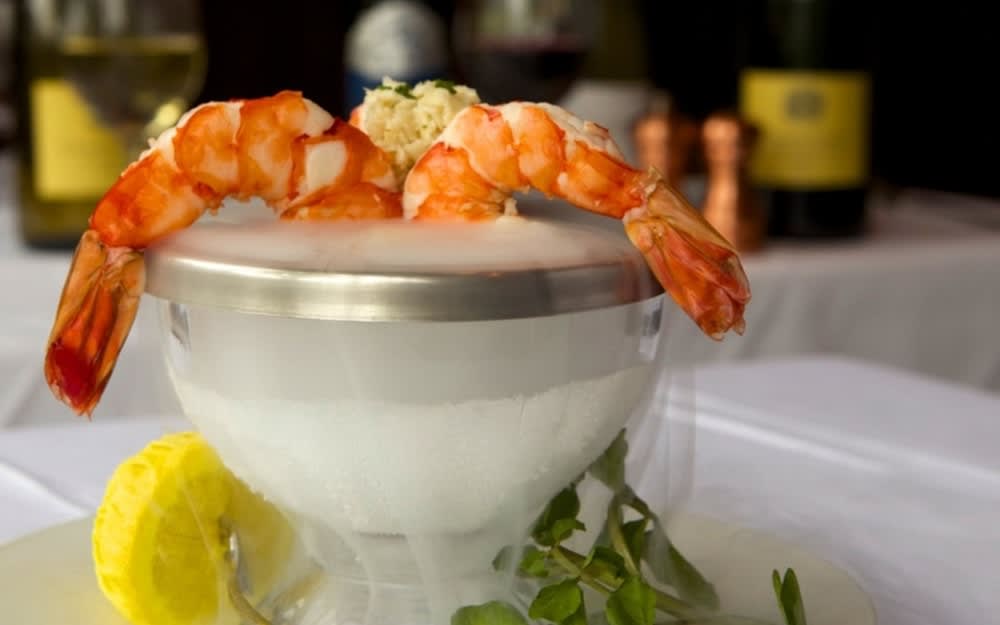 World-class wines, creative cocktails, and a sumptuous menu of traditional steakhouse cuisine reign supreme at sophisticated
Roots Steakhouse
— one of Ridgewood's most luxurious steakhouses. With rustic chic elegance and a classic supper club feel, Roots Steakhouse is right for any occasion. Indulge in the 42-ounce porterhouse for two, or go lighter with a caesar salad and oysters on the half-shell. Whether you're looking for a quiet dinner for two, a lively hangout with friends, or a sleek corporate lunch, the first-rate hospitality at Roots makes for an ideal gathering space.
Standouts from an already stellar menu include seared ahi tuna and bay scallops, the chilled seafood platter featuring lobster, oysters, shrimp cocktail, tuna tartare, and the filet mignon.

Van Dyk's Ice Cream: sweet treats
Ridgewood's hidden gem and most beloved spot,
Van Dyk's Ice Cream
, is a quaint ice cream parlor with big flavors and bigger smiles. Residents from all over Bergen County scream for Van Dyk's ice cream, and this seasonal shop is always packed on hot summer days. A cash-only establishment, Van Dyk's offers a mix of traditional flavors, like vanilla and chocolate, and inventive combinations, like salted caramel truffle, cappuccino oreo, and rum raisin. With a rotating menu and new flavors popping up, there's always a reason to stop by Van Dyk's.

White Maple Café: Sustainable Fare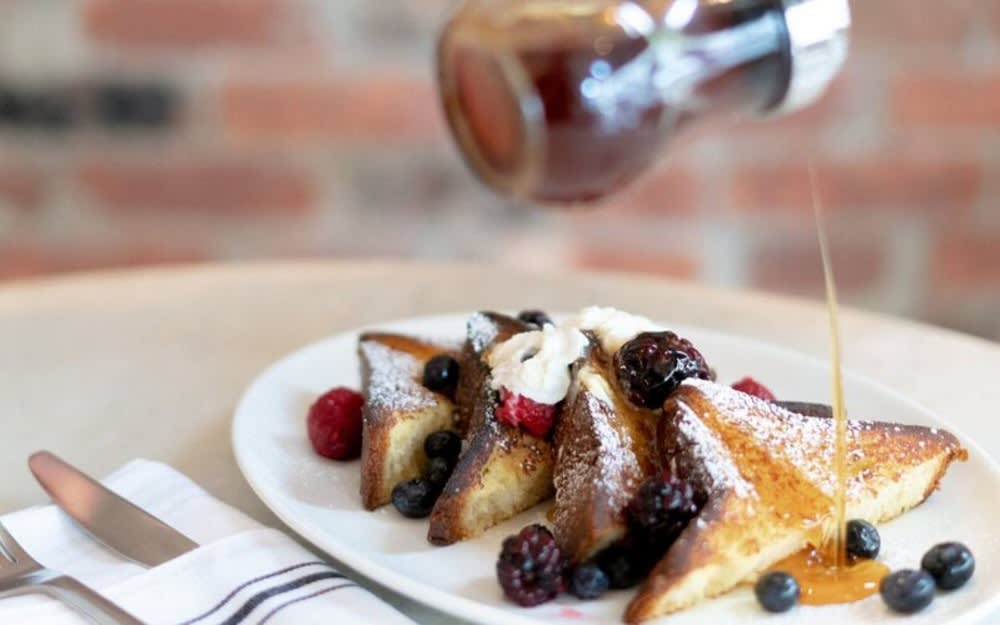 At
White Maple Café
, delicious food and sustainability go hand-in-hand. This contemporary bistro sports an airy, modern design and a fresh menu of locally-sourced American cuisine. Serving a fresh, innovative breakfast, lunch, and dinner menu, White Maple invites guests to bring their own wine but stands ready to serve crisp varietals from nearby Ventimiglia Vineyard. Brunch at White Maple Café is a real treat, too, with creative dishes like the ricotta board, gravlax crostini, and salmon benedict.
Highlights from this seasonally influenced menu include the burger with brie, bacon, and blueberry jam on a toasted Balthazar brioche bun, the Korean roasted cauliflower, and the wild salmon with dijon mustard sauce and fingerling potatoes.

Best of Everything Deli: gourmet sandwiches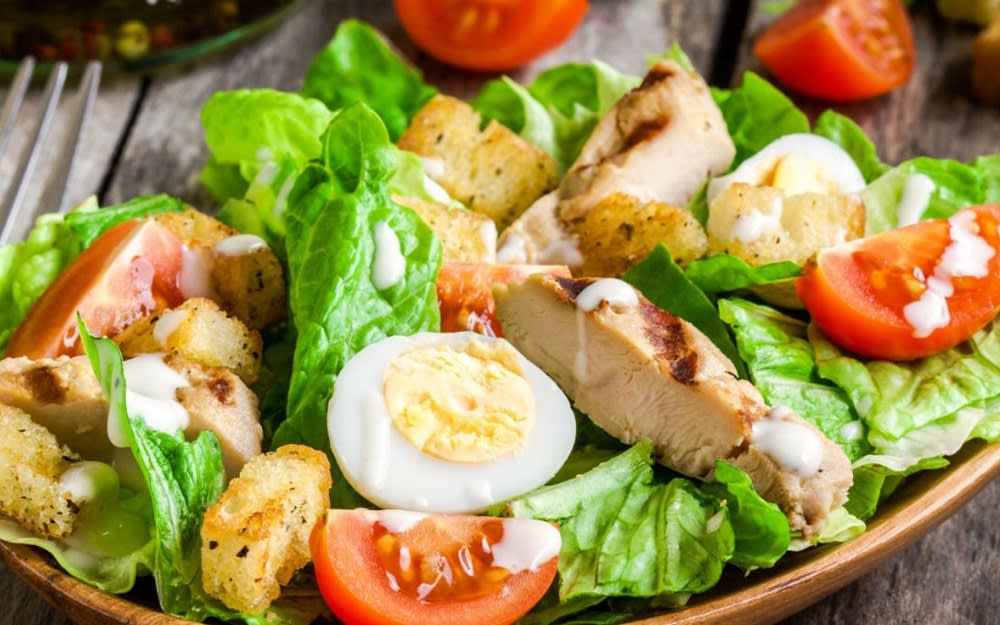 Both a gourmet deli and catering service, the
Best of Everything Deli
dazzles with an incredible menu of family recipes and artisan items. This scratch-made kitchen has been a Ridgewood fixture since 1986 when owners Lou and Denise Torelli decided to share the recipes passed down through generations by their family. Using only the freshest and finest ingredients, the thin-crust pizzas, antipasti, fresh mozzarella, paninis, handmade pasta, and signature sandwiches are counted among some of the best food in Ridgewood.
Standouts include just about everything, but the barbecue chicken white pizza is fantastic. The handmade mozzarella and rice pudding have been named the Best of New Jersey by Bergen Health and Life Magazine.

Cravings Tapas Bistro: small plates
Vibrant and lively,
Cravings Tapas Bistro
brings the dynamic world of tapas to Ridgewood with bold flavors and global influences. This hip spot serves up colorful plates and a rich ambiance with stunning artistry and masterful expertise. Consistently topping Best of Bergen lists, Cravings has secured its place in Ridgewood's culinary heart. This inspired bistro offers fresh cuisine and an old-world style, from fresh seafood and flatbreads to tuna tartar, paella, and a three-mushroom risotto.
The gnocchi tops the list of culinary stars, as well as the empanadas, and decadent cheese boards, which include manchego, handmade warmed mozzarella, and a delicate chèvre.

Sakura Bana: sushi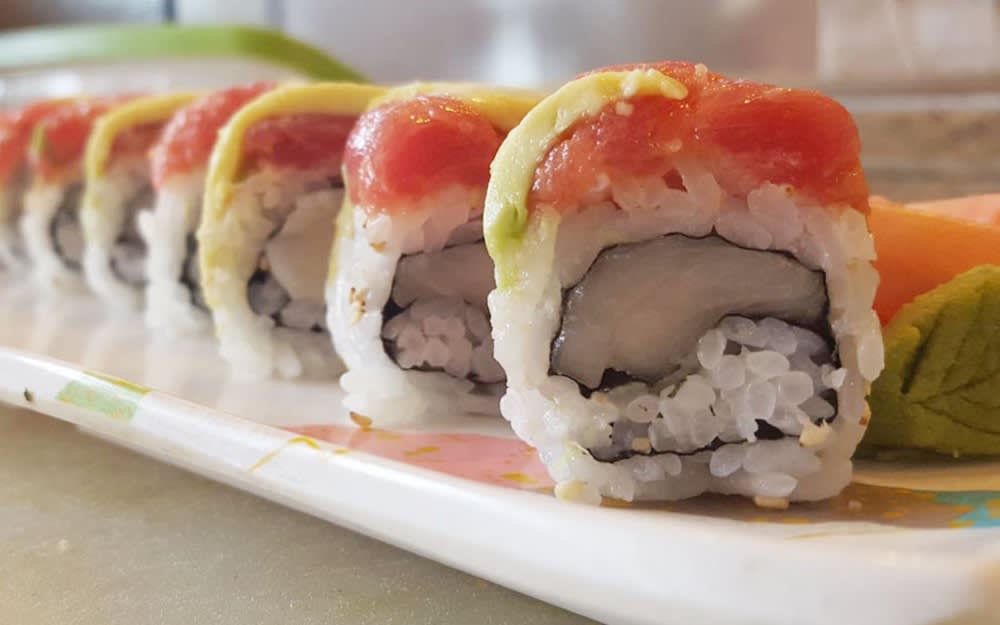 Photo Courtesy of Visit Omaha
Ridgewood's most established sushi restaurant,
Sakura Bana
is truly one of Bergen County's culinary jewels. Chic yet laid-back, this esteemed sushi spot stuns patrons with fresh, expertly executed sushi plates and creative Japanese cuisine. Chef Ken Kunki owns and operates this neighborhood favorite and sets the tone for warm, hospitable service and first-rate sushi made of the freshest seafood. Sakura Bana offers a traditional setting and a casual elegance perfect for family dinners. The stunning Kaisen Bowl is delicious, as are the classic sushi special and the chirashi bowl.

S. Egidio: authentic Italian pizza
No Ridgetown restaurant list is complete without the true star of the show: pizza. One bite of the artisan pies at
S. Egidio
, and you'll feel your taste buds transported to Italy. With a rustic atmosphere and cozy interior, this Ridgewood favorite offers a great menu of authentic antipasti, salads, fresh pasta and gnocchi, and pizza. Warm and inviting, this foodie haven features a visible wood-fired Neapolitan oven. Just about every pizza at S. Egidio is a must-try, but the Genovese and Fiamma pizzas and Rucolina salad are the absolute best.
Searching for Bergen County luxury real estate?
If you're interested in these delicious eateries and life in Ridgewood, contact
The Taylor Lucyk Group
to learn more about the current inventory of Ridgewood luxury homes for sale. An expert in Bergen County real estate,
Taylor
is well-versed in the exclusive Ridgewood market and houses for sale in nearby
Paramus
and
Saddle River
. Wherever you are in the home buying or selling process, reach out to The Taylor Lucyk Group with all your questions.